The vast tapestry of history provides writers' imaginations with unlimited opportunities for inspiration. Many writers harvest from this fertile ground and produce historical fiction for an appreciative audience. At
Historical Novel Review
, readers can peruse a continual stream of reviews and articles about many types of historical fiction books.
Yesterday I had the good fortune to receive a
positive review for Union of Renegades
at this blog. Although my novel is the first part of a fantasy series, its Medieval fantasy world appealed to the tastes of one of the reviewers.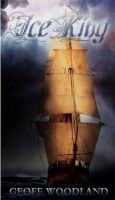 Adding to my happy feelings of being flattered, I was also invited to contribute to this review blog and am looking forward to writing my first review for the site. The historical fiction book I'm reading is called
Ice King by Geoff Woodland
. The novel concerns the challenges of William King from Liverpool, England as he endeavors to earn a living in the dynamic trans-Atlantic trade among Great Britain, Africa, America, and the West Indies. William is personally dedicated to proving a profit can be made trading without resorting to the horrific slave trade. William's father, however, has made a fortune in the African trade, as it is called.
Thank you Historical Novel Review and its editor Mirella Patzer for allowing me a place to publish reviews and help readers become aware of my writing.