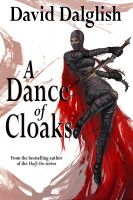 Enter the drawing for the fantasy ebook A Dance of Cloaks when you download my novel Union of Renegades at
www.braveluck.com
A new month brings a new prize offering for people who visit
http://www.braveluck.com/
and download my free fantasy novel Union of Renegades: The Rys Chronicles Book I. You join my readers' list when you download the free sample and you will be automatically entered in the prize drawing for December.
This month's prize is a digital copy of
A Dance of Cloaks by David Dalglish
. It's a clever fantasy novel driven by a bloody rivalry between a powerful thief guild leader and an entrenched nobility. Throw in some coming-of-age rebellion against your father's authority and you have some good fantasy reading in a pitiless fantasy world.
I'll do the drawing for A Dance of Cloaks on January 1st. Please visit Brave Luck Books (TM) to download the
first book of The Rys Chronicles
and see the full details of the
monthly ebook giveaway drawing
.
I notified the November winner yesterday and am still waiting for a response so I can deliver the ebook in the format requested by the winner. I buy my prizes through
http://www.smashwords.com/
so I can obtain files free of DRM that I can delivery to winners without encryption hassles.