Over the past week I've been honored with interviews from two independent authors.
On February 10th, Matt Williams, author of the charming space opera Jak Phoenix, interviewed me about my fantasy novels at his blog The Jak Phoenix Universe.
An interview with fantasy author Tracy Falbe
.
Thank you Matt for telling your readers my fiction won't melt their eyeballs, and now this gives me an opportunity to mention that I adore space opera. I have no idea how that genre term developed. It summons images of swashbuckling space pirates bursting into song from the decks of derelict star cruisers.
I've placed Jak Phoenix in my library at Smashwords, so it can someday reach the upper levels of my reading list.
About
Jak Phoenix
:
Jak Phoenix would rather kick back with a cold drink than stick his neck out to save the galaxy. But, as we all know, life often gets in the way of these 'big dreams.' Jak and his longtime friend Baxter once again find themselves on the verge of bankruptcy. A last minute salvage mission delivers more than they bargained for when Jak's old enemy shows up and steals their haul out from under them. When it is revealed the cargo is more important than any of them realized, Jak decides, against his better judgment, that a retrieval is necessary.
His pursuit leads him right past his enemy and into the hands of the most feared pirate in the galaxy. In the spirit of space operas of old, comes an action packed novel following the exploits of the best low quality pirate in the galaxy, Jak Phoenix.
Fly into the Jak Phoenix Universe for reviews and links to buy it.
Then yesterday February 14th, I was interviewed at Ebook Endeavors by Lindsay Buroker, author of the Goblin Brothers Adventures, The Emperor's Edge, and Encrypted. We talked shop a little bit at her epublishing blog where she asked me about marketing and making money as an independent author.
Indie fantasy author Tracy Falbe making solid part-time income
.
I interviewed her in January as she promoted
Encrypted
.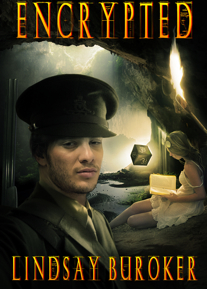 Professor Tikaya Komitopis isn't a great beauty, a fearless warrior, or even someone who can walk and chew chicle at the same time, but her cryptography skills earn her wartime notoriety. When enemy marines show up at her family's plantation, she expects the worst. But they're not there to kill her. They need her to decode mysterious runes, and they ask for help in the manner typical of a conquering empire: they kidnap her, threaten her family, and throw her in the brig of their fastest steamship.
Her only ally is a fellow prisoner who charms her with a passion for academics as great as her own. Together, they must decipher mind-altering alchemical artifacts, deadly poison rockets, and malevolent technological constructs, all while dodging assassination attempts from a rival power determined the expedition should fail. As if Tikaya didn't have troubles enough, her new ally turns out to be exiled fleet admiral, Federias Starcrest, the man who recommended taking over her nation. To trust him could be a mistake; to fall in love with him would be a betrayal to her people, her family, and the fiancé she lost in the war. Those runes cloak more than mysteries, however, and he may be the only one who can help her unravel them before their secrets destroy the world.
Sample some chapters and then visit retailers to purchase Encrypted.