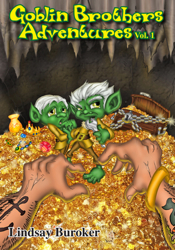 Ebook Endeavors giving away a $100 Amazon gift card
The publishing blog of fantasy author Lindsay Buroker, author of Emperor's Edge, Goblin Brothers Adventures, and Encrypted, is promoting her newsletter with an Amazon gift card giveaway. How do you enter? Divulge to Buroker your sacred email address and
sign up for her newsletter
.
Short stories of Venus, Earth, and Mars
Science fiction author Joseph Robert Lewis recently released a short story collection called
Preludes
. It offers three episodes set before the events in his novel Heirs of Mars. I like the titles Lewis has given his short stories.
To Reign in Heaven
(19 years before the novel) – India is a synthetic woman in love, passing a blissful year studying Venus and reveling in a shared dreamspace with her silksteel lover. But when her Mother chooses to sacrifice her children, India's memory of love is her only weapon to save her brothers and sisters.
To Walk the Earth
(18 years before the novel) – Victoria is ready to move into the wilderness, far away from the manufactured monotony of modern life. But her boyfriend decides to go to Mars instead, leaving her to enjoy one last motorcycle ride all alone.
To Serve in Hell
(1 day before the novel) – Neil is just a man struggling to get through another day on Mars: lousy food, cramped quarters, and a child who doesn't understand why he can't have a puppy. But when a cloner arrives, Neil has a chance to take control of something for once in his life, and to avenge the death of his parents.
My audio book project has 2 backers at Kickstarter
My attempt to raise some funds to help me produce an audio book of my fantasy novel Union of Renegades is off to a good start this week. Two people have pledged $105 towards the audio book. If you are an audio book lover, please visit my Kickstarter page to make a pledge and be
among the first people to receive the completed audio book
. Union of Renegades will produce a full length audio book of almost 20 hours of entertainment. I can't wait to get this done!