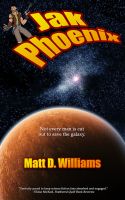 Do you like to win things?
Then
join my readers' list at Brave Luck Books
in March and enter a drawing for a free ebook copy of
Jak Phoenix by Matt D. Williams
.
Here's how Williams' describes his witty Space Opera:
Jak is a space pilot who would rather kick back with a cold drink than stick his neck out to save the galaxy. But, as we all know, life often gets in the way of these 'big dreams.' In the spirit of space operas of old, comes a light hearted, action packed novel following the exploits of the best low quality pirate in the galaxy, Jak Phoenix.
Enter the ebook prize drawing
or forever live with your regret.