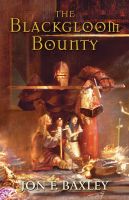 Described as Braveheart meets The Lord of the Rings, The Blackgloom Bounty by Jon F. Baxley is the prize for my May ebook giveaway drawing. To enter the drawing,
join my readers' list at Brave Luck Books
. On June 1st I will select a winner and email that person a copy of the novel in his or her format of choice.
As an added bonus, the author Jon F. Baxley has offered to also give the winner the second book in his saga The Regents of Rhum in Kindle format.
Baxley's novels earn high ratings from readers. The Blackgloom Bounty has a solid 4.5 stars at Amazon based on 40 reader ratings.
Please visit Brave Luck Books to
enter the drawing
and you can download for free my epic fantasy novel
Union of Renegades
while you're there too.