As part of my recent release of Savage Storm: Rys Rising Book II, select bloggers were contacted by me and offered a flash excerpt to publish at their blogs. So far two bloggers have taken me up on the offer.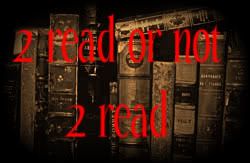 To Read or Not to Read is an active book blog that features reviews and giveaways. Thank you to Marcie for helping me promote my new release.
The scene published at Marcie's blog shows when the rebelling rys enter a tower that they have taken from their tabre masters.
Go to flash excerpt
.
You can read another flash excerpt at the blog of Paranormal Romance author J.R. Pearse Nelson. Doesn't she have the best profile picture ever? I contacted her because she has a soft spot for epic fantasy, and she graciously shared one my flash excerpts from Savage Storm.
Read the scene at her blog where Cruce and Rayden
prepare for a seige
.
If you want to read my newest novel, go to this page
to purchase Savage Storm
.