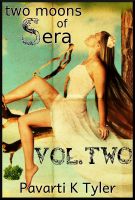 Today I received an announcement from Pavarti K. Tyler, author of Two Moons of Sera, which I
reviewed in November
. She is offering the second volume of the story as a free download at Smashwords today. I found the introductory story to be emotional and creative, and I welcome the publication of the next part. I downloaded an epub copy and hope to get a chance to read it some time soon. It's a novella of 27,000 words, so even someone like me who is the slowest reader in the world should be able to get to it.
Thank you Pavarti for letting me know about the free preview, and I wish you success with your writing.
She is planning for a widespread release of Two Moons of Sera Volume 2 tomorrow.