Smashwords Coupons List for October 9th, 2013
This is a new weekly feature at Her Ladyship's Quest. Follow
by email
or with
RSS
and come back for the next Smashwords Deals feature.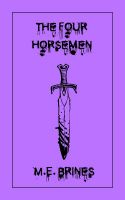 The Four Horsemen
M.E. Brines
Fantasy
$3.99
free
with coupon EV64W
Till the end of October
Get it at Smashwords
An epic fantasy about a group who must try to forestall the apocalypse by killing the Four Horsemen.
Awesome review of The Four Horsemen fantasy novel by Christian Sci-fi and Fantasy Review
http://christianscifiandfantasyreview.blogspot.com/2011/11/four-horsemen-by-m-e-brines-book-review.html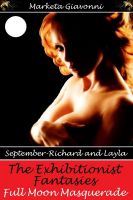 September-Richard and Layla
Marketa Giavonni
Erotica
$0.99
free
with coupon
YY58U
Oct.1-Oct. 15
Get it at Smashwords
This is the third installment of the Erotica short story series The Exhibitionist Fantasies Full Moon Masquerade. It features a play of Erotic Kitsch: Layla Earns Extra Credit.
Random Bargain Ebooks - No Coupon Needed

The Astonishing Moment
by
Erin Bartels
. $0.99 from
Smashwords.com
A pleasant solo kayaking trip along the southern shore of Lake Superior becomes a dangerous affair when the weather suddenly turns and the light fails.
Submerged
by
Cheryl Kaye Tardif
. $0.99 from
Smashwords.com
After a tragic car accident claims the lives of his wife, Jane, and son, Ryan, Marcus Taylor is immersed in grief. But his family isn't the only thing he has lost. An addiction to painkillers has taken away his career as a paramedic. Working as a 911 operator is now the closest he gets to redemption—until he gets a call from a woman trapped in a car.

The Escape of Princess Madeline
by
Kirstin Pulioff
. $3.99 from
Smashwords.com
The Kingdom of Soron is known for many things, its rolling landscape, haunting history, fiery sunsets, and its beautiful princess. Princess Madeline woke on her sixteenth birthday to realize that her future had been planned out, a life full of privilege, royalty, and boredom... a life with a husband and knight champion that she did not choose.

Fiery Blend
by
Emily Cantore
. $3.99 from
Smashwords.com
Four red-hot Emily Cantore erotic stories collected in one book. Just over 20,000 words to get you all hot and bothered ... Includes: Good Cop Fire Man The Actor Oiled Down

Bloodlust: Vampire on the Titanic
by
Patrick Prior
. $3.99 from
Smashwords.com
There are vampires on the Titanic! Mina Harker, one the undead, returns to haunt the gas-lit alleys of Edwardian London. From a brooding house by the Thames she hunts and feeds. Beautiful, voluptuous, merciless, her overwhelming and irresistible sexual allure brings willing victims. In the east-end the death toll rises while the Titanic, the mightiest ship in history, waits to set sail.

The Vampire Jules (A Paranormal Vampire Erotic Romance)
by
Emily Cantore
. $2.99 from
Smashwords.com
After returning from work very hot and bothered, college student and part-time waitress Audrey White finds Jules Marquez, vampire and smoking hot man, tapping on her second floor window, floating in mid-air. He's a vampire and wants to be invited in... This 8500-word red-hot paranormal vampire story features explicit scenes, oral sex, mind control, biting and much more!
Follow Her Ladyship's Quest
by email
or with
RSS
and come back for the next Smashwords Deals feature.
Authors: Send me your coupon codes with the form at the bottom of the Smashwords Deals page.
Happy Reading Everyone.