I'm sharing a Smashwords coupon this week for a young adult title.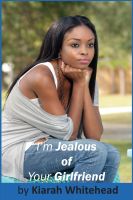 I'm Jealous of Your Girlfriend
Kiarah Whitehead
Young Adult
$2.99
only
$1.99
with coupon code TV49V
Expires 4/23/14
Get it at Smashwords
Tracy is a fourteen year old smart, shy girl starting her first year of high school in a new neighborhood. The environment shocks her at first but she quickly learns to adapt to her surroundings in order to survive.
Please review on Goodreads, Amazon, or Smashwords. Visit the author:
http://www.kiarahpublishing.com
Happy Reading!
Please subscribe to Her Ladyship's Quest so you can come back and browse new Smashwords Deals as they are added.
Authors: Send me your coupon codes with the form at the bottom of the Smashwords Deals page.