This week I received a 99-cent coupon code for an erotica title by Andie Devaux.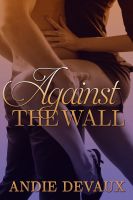 Against the Wall
Andie Devaux
New Adult Erotic Romance
$2.99
$0.99
save 67% with coupon code RV87U
Expires 3/24
Get it at Smashwords
When she sees red and blue lights flashing in her rearview mirror, Michelle Thomas fears her day is ruined. Sexy Officer Drake lets her go with a warning, but when she runs into him at a bar later that day, it feels a little like fate.
Happy Reading!
Please subscribe to Her Ladyship's Quest so you can come back and browse new Smashwords Deals as they are added.
Authors: Send me your coupon codes with the form at the bottom of the Smashwords Deals page.