This week I had an author inform me of a short term price drop to $0.99 an a Smashwords ebook. The sale ends on Apirl 6th, so take a look quick.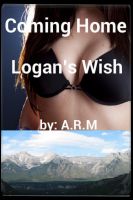 Coming Home Logan's Wish
A.R.M.
Erotica
$2.99
now
$0.99
through April 6th
Get it at Smashwords
Logan returns home to find the woman of his dreams has caught the romantic attention of his brother Dillon.
Happy Reading!
Please subscribe to Her Ladyship's Quest so you can come back and browse new Smashwords Deals as they are added.
Authors: Send me your coupon codes with the form at the bottom of the Smashwords Deals page.