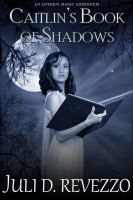 Grab a short paranormal ghost story by Juli D. Revezzo this holiday weekend.
She just emailed me the coupon code to use at Smashwords for the 5-star Caitlin's Book of Shadows.
Coupon Code: JR55C
Hurry: Expires May 26th!
Copy and paste the code into the coupon box at checkout and you'll get the ebook for free. Smashwords serves multiple formats worldwide so anyone can shop there.
About the story:
Though their fame became legend, a rumor cropped up about the Fulmer family: Something terrifying stalked Caitlin and her beloved Trevor. Something the bits and pieces she left claimed she had to make sense of. When the curator of their collection finds Caitlin's long forgotten diary, she wonders will it explain why she thought her world twisted? If she really became a witch?