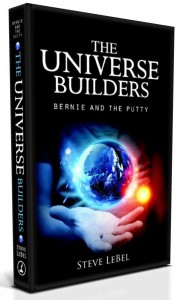 Last month at the Grand Rapids Comic Con I got to meet another West Michigan author. Steve LeBel introduced himself. He was keen for advice about marketing his delightful novel The Universe Builders. I think he's off to a fantastic start. With close to a 5-star rating at Amazon out of 119 reviews, he's a natural at pleasing readers. I should take advice from him.
About The Universe Builders:
What if God got a C- in Universe Building 101?
(Well, not our God, of course. One of those other guys...)
Dive into a humorous fantasy world unlike anything you have imagined - a world of gods and goddesses who build universes for a living. Are they all-powerful and all-knowing? Well, not exactly...
As Bernie graduates from God School, he is thrilled to land his dream job as a builder of universes. His first assignment is to build his own universe. Determined but unsure, bright but without confidence, Bernie forges ahead, only to find problems everywhere. Mysterious asteroids, unexplained volcanoes, shifting continents and more lead him to suspect sabotage. But who could sabotage his universe? Only another god could do that...
It's god vs. god, guile vs. goodness, where only one of them plays by the rules. Bernie must find a way to outwit his vicious foe. If he fails, it will cost him everything.
A fascinating tale of good vs. evil and a young hero on a journey of self-discovery in an original, humorous, fantastic wrapper.
A note from Tracy Falbe:
Be the first to know about my new releases and special sales at Brave Luck Books.
Join the Readers' List
. Ebooks and audiobooks available worldwide. Print in select countries.